Class of 1974
Custer

High School

- Milwaukee, WI
In Memory
Laura Cina (Kuhl)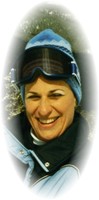 Laura Cina Kuhl passed away in Phoenix on February 1, 2011, she was 54.
Laura is survived by her husband Richard Kuhl, stepson Christopher Kuhl (Amy Lynn), and brother Wayne Cina. Parents Jacob and Erna Mae Cina have been gone for some time.
Laura is also survived by aunts, uncles, and generations of cousins in her hometown of Milwaukee, WI. Laura also had many friends and colleagues from when she worked as a Paralegal in Milwaukee, WI as well as lifelong personal friends also from Wisconsin who she continued keep in touch with. Laura will be missed by the close friends she had in Arizona.
Laura remains in all of our hearts and through happy memories of all who knew her. Dick, Christopher, and Wayne want to thank everyone we've talked to since Laura's passing. Catching up and sharing memories and stories about Laura have been very comforting. It made us smile during a difficult time. It is those memories and well wishes that are truly the tribute to Laura. All of us live on through the people we've touched throughout our lifetime. We all love you Laura.
Interment will be at the National Memorial Cemetery of Arizona.
- Wayne Cina, brother, CHS '77