Class of 1974
Custer

High School

- Milwaukee, WI
In Memory
Debra Johnson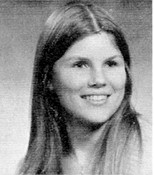 Debbie Johnson (Hotchkiss) married and died shortly after giving birth to a beautiful baby girl, Tina Marie.
I will remember her always and the fun we had living in our first apartment, the Senior Class Trip, our first job and many more memories of McGovern Park. She had many friends, a loving family and a beautiful daughter that never had the chance to grow up knowing what a wonderful person her mother was.
I think of her often and if she would have lived, our families would have also grown up together and been very close as her & I once were.
She is sadly missed.
Linda Kemmer (Voit)