Class of 1974
Custer

High School

- Milwaukee, WI
Custer High School - Class of 1974
Thanks to the classmates who responded to the call for action on extending this site for another 5 years. The domain name, ID security and premium subscription have been renewed. For the few who offered "donations towards renewal" THANK YOU and a personal message will follow.
---
CUSTER HIGH SCHOOL
CLASS of 1974
Thanks to all who attended the 40-Year Reunion August 30, 2014, the ice breaker on Friday and the Beer Garden on Sunday. Special thanks to the "first timers" who joined us and those who travelled from afar, it was great seeing you. Thanks to all who made the even a success. Until next time...
---
Custer High School
Class of 1974
Thanks to all who attended our 35-Year Reunion on October 24, 2009.
***Click HERE for Reunion Photos***
We will keep this site active indefinitely as a method of staying in touch with each other.
Please return to the site periodically for new photo postings, profile updates and future event announcements.
***Check out the classic PHOTOS section***
Old school mascot:

YES!
Current school mascot: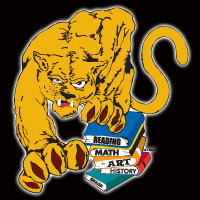 Wha...?
(School photo on Home Page banner courtesy of Scott Kaylor)
ANNOUNCEMENTS
Greetings to all of you who have signed up for this site. We believe that it will become a great method to share information about each other and also an excellent way to keep up with the details of our Reunion this fall.
Some information about this site:
This site is a forum for all things related to Custer Class of 1974 activities.
This site is being paid for, in part, using funds raised by the Reunion Committee.
The site is being maintained voluntarily.
Most of the site runs automatically and in real time. But, some information may have delays between submission and posting.
Please keep in mind:
You are not to use this site's email capabilities to send "group" emails that espouse any political, religious or personal commentary unrelated to the Custer Class of 1974/35-Year reunion. As site administrator, I can disable the email function individually if need be.
Feel free to post photos to your personal profile, but keep them friendly for all.
You may also email photos to me for uploading to the general PHOTOS page.
I retain the right to repost personal photos to the general PHOTOS page, with credit to the submittor.
Please forward any questions, issues or problems to me, using the CONTACT US link on the Menu bar.
Have fun and keep in touch!
Dave Carpentier/Joni Sue (Hanson) Cook - site administrators and fellow Classmates, CHS 1974